30 Luminous Bedroom Mirror Ideas that Reflect Your Personality
A bedroom mirror is one of those indispensable decor items that can do a great many things at once. Whether you place it in a hallway, a bathroom, or a master bedroom, it instantly adds decorative value to the location and makes it more spacious and full of light. No matter where you hang a mirror, ensure it reflects the right things. Check out a selection of bedroom mirror ideas to add extra sparkle to your bedroom design.
1. Glam It Up with a Bedroom Mirror. A mirror in the bedroom makes for great decor. As decorative accents, their function is to complement the style, so you can go for any design you find befitting. This big bedroom mirror in a metallic frame supports the overall blush and peach color scheme and adds extra glam.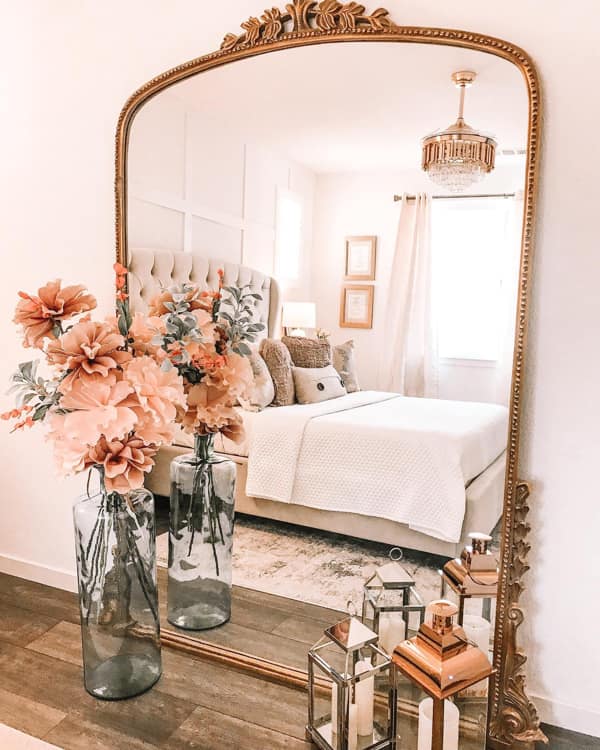 2. Lustrous Primrose Mirror. Vintage-inspired and social-media-famous, the Primrose Mirror is the queen of bedroom mirrors. With elegant adornments along the edges, it reflects the best of your place wherever it is placed. Prop it against a shiplap bedroom wall to bring visual interest into the crisp white farmhouse design.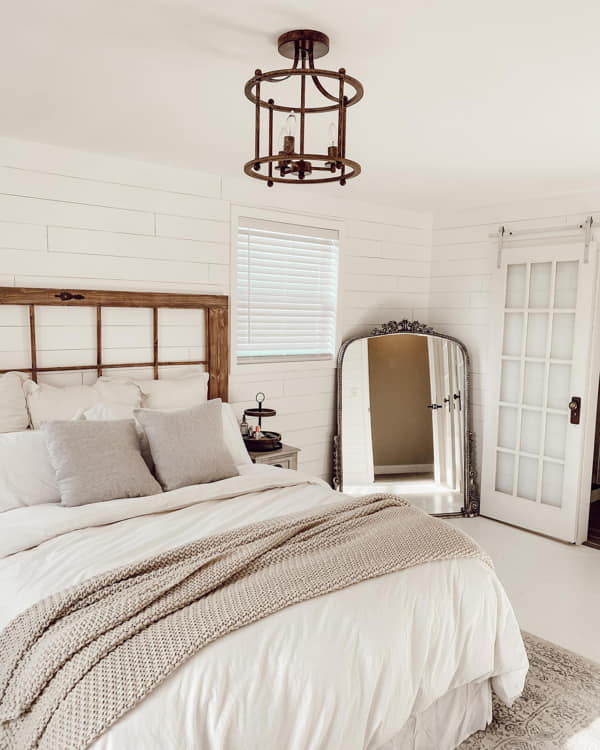 via @scullyhouse_
3. Round Mirror With a Minimalistic Frame. If you are a fan of clean streamlined designs, round mirrors will help you make a statement without frills and gild. This circular mirror with a thin black frame is a minimalistic take on mirror design. Being oversized, it creates a grand feel while still looking simple.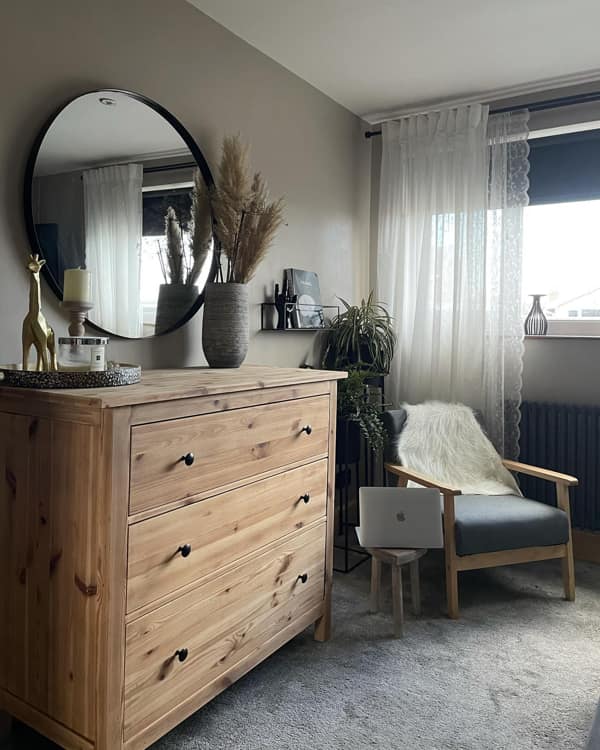 via @_dye4it_
4. Full-Length Mirror in Smoked Glass. Trying to create a cozy but modern feel in your bedroom? Go for full-length frameless mirrors that gently hug your large headboard area and create depth to the room. A luxurious dark tint creates a smoky appearance, adding a mysterious vibe to the bedroom.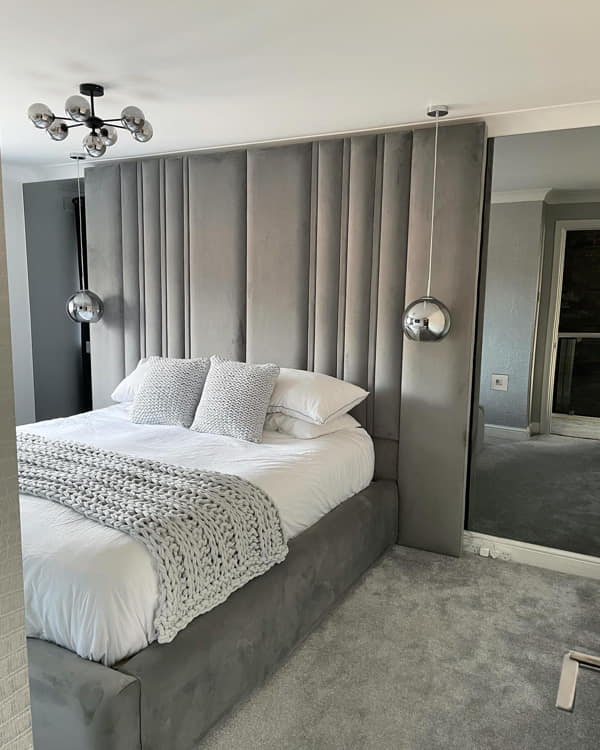 via @a_step_over_the_threshold
5. Large Mirror in Period Home Style. Recreate the spirit of a long-gone era in your bedroom with an elegant pier mirror. Back then, its ability to make the bedroom space brighter was key due to the scarce lighting. Nowadays, an attractive rectangular mirror with a vintage feel is both a tribute to yesteryear and a practical interior design solution.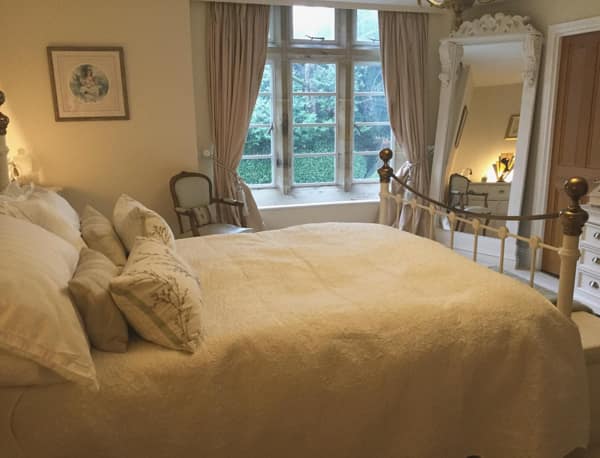 via @vintagelinen
6. Leaning Floor Mirror. Not all mirrors have to be hung on the wall. A leaning wall mirror is the optimal mirror placement if you are going for a relaxed rustic look. The aged silver patina frame adds that extra touch of style to the interior as well.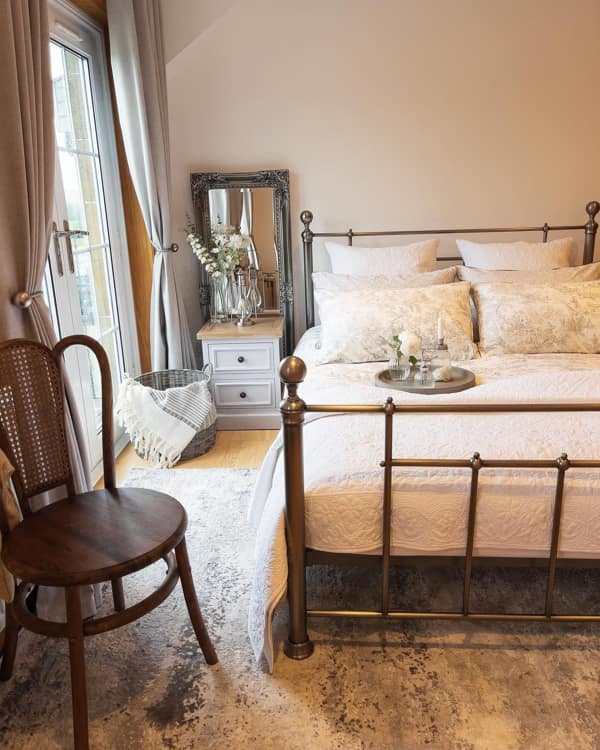 via @storries.scottish.steadings
7. Rectangular Mirror with Artful Frame. This tall mirror looks even better with an artfully crafted frame. The clean delicate cuts form a pleasing geometric pattern. Conspicuous on its own, it makes a beautiful focal point of any bedroom.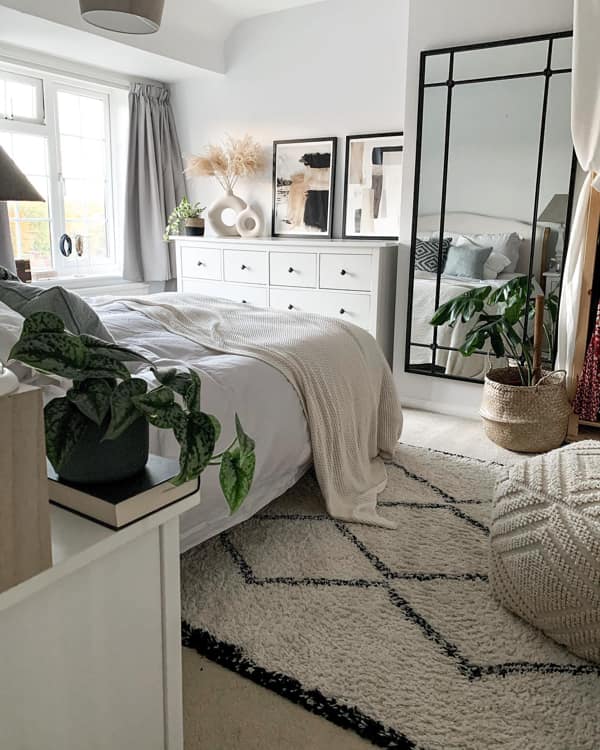 8. Arched Ava Mirror. This stunning yet functional Ava mirror encompasses an on-trend neutral approach with a low-key frame and unique shape. Easily adjusting to the light, it's a perfect companion in dressing up and applying makeup.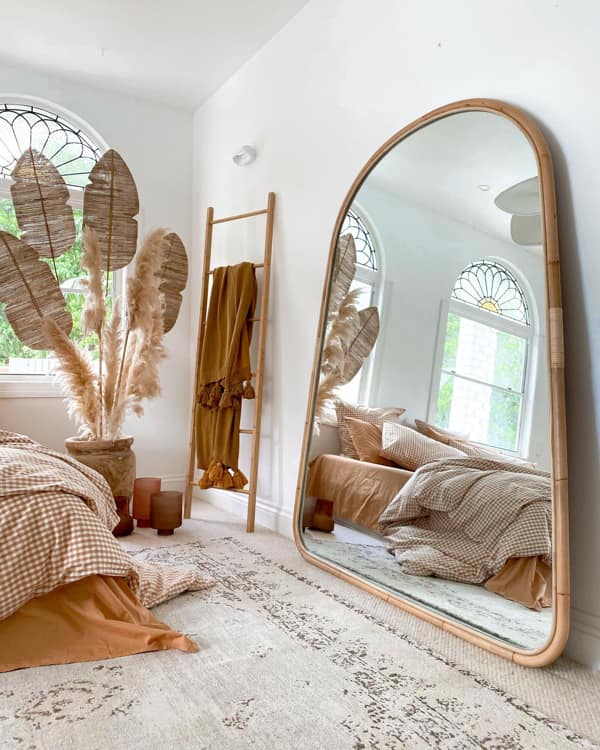 9. Multiple Uniquely Shaped Mirrors. Animate a reserved scandi style with a line-up of exclusive decorative mirrors. The right mirror placement will work wonders, covering an entire wall and creating a warm airy feel even on a gloomy winter morning.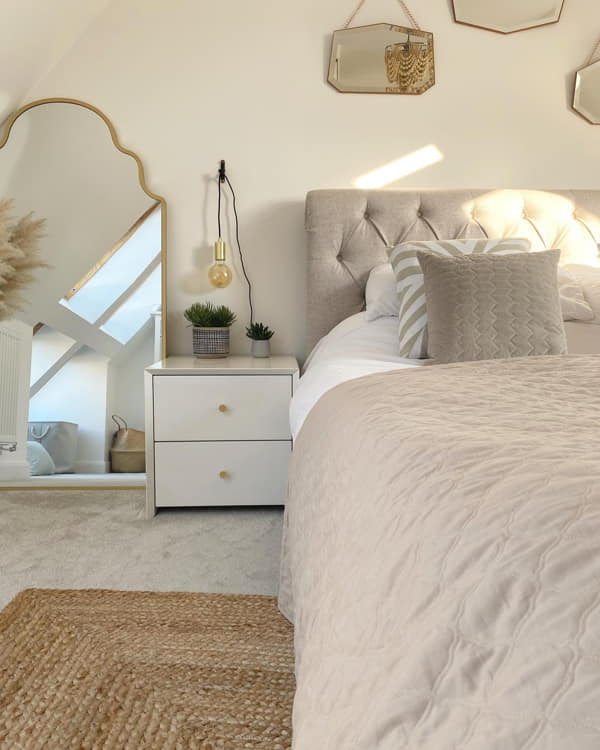 10. DIY Raffia Mirror. If you are seeking homemade options to introduce into your interior, consider a wall-hanging mirror made of raffia. This attractive mirror combines sustainable materials with a modern design and brings a boho style vibe into your sleeping quarters.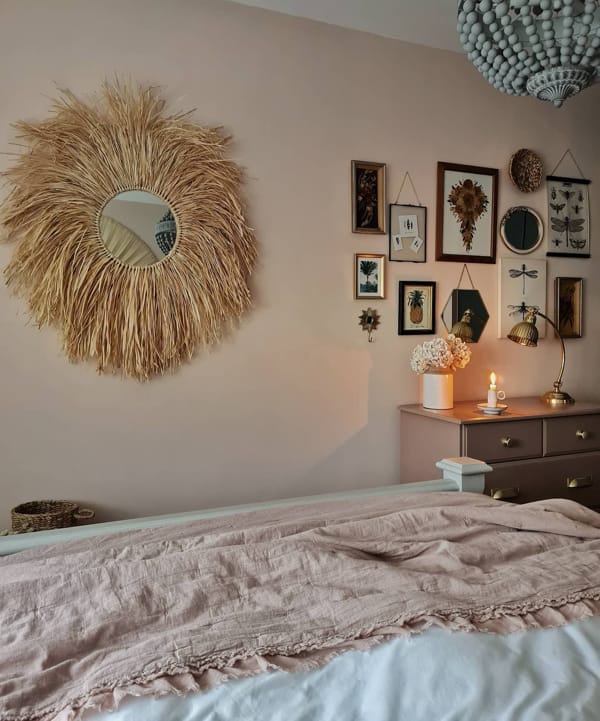 11. Gold-Framed Circular Bedroom Mirror. A circular mirror can always benefit from an eye-catching frame. Placing a wall mirror opposite a window, you will ensure plenty of natural light in a bedroom decorated in dim or earthy hues. A slim console table underneath is both functional and stylish.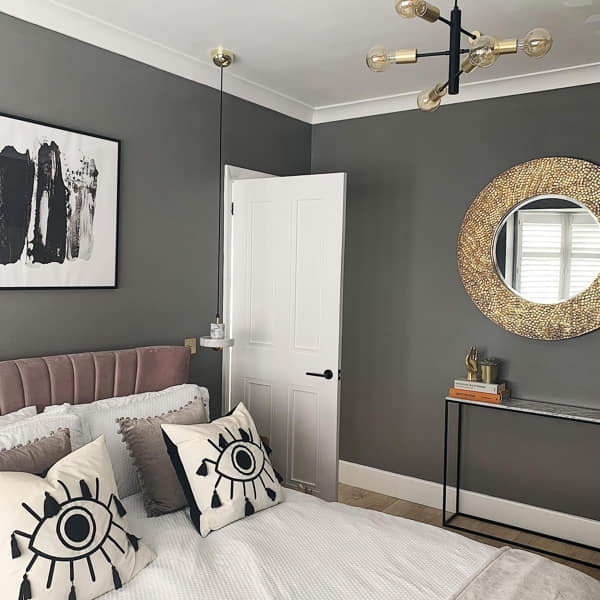 12. Freestanding Bedroom Mirror Ideas. Freestanding mirrors have their advantages over wall-mounted ones. First, they are mobile. You can rearrange your bedroom furniture and move a freestanding mirror with it. Second, they are highly adjustable. Lean them to the wall changing the angle so that you can better see your full-length reflection or turn them so that they reflect light creating a greater sense of space.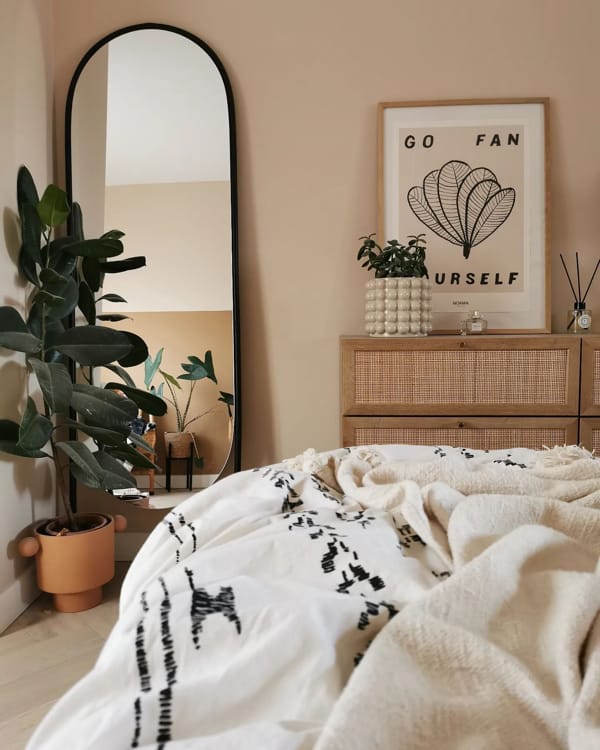 13. Rose Gold Bedroom Vanity Mirror. Add a small wall mirror to your dresser or nightstand so that you can check your hair and makeup when you get ready in the morning. A themed bedroom with matching accessories in a uniform color scheme will tie the design together and create a spacious feel in a small bedroom.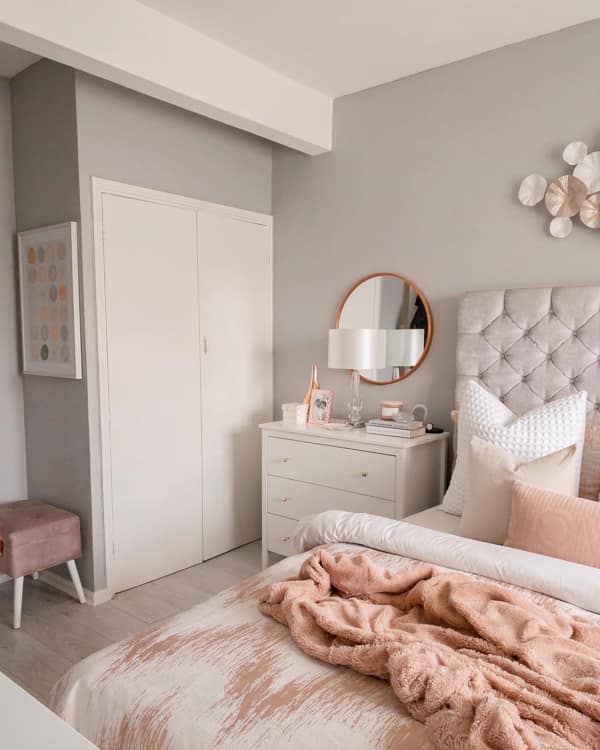 via @sashblessedhome
14. Plain Frameless Mirrors on the Rich Background. Add drama with a pop of bold color into your room to establish a perfect backdrop for simplistic frameless mirrors. Grand designs like this one, play on contrasts to take your breath away.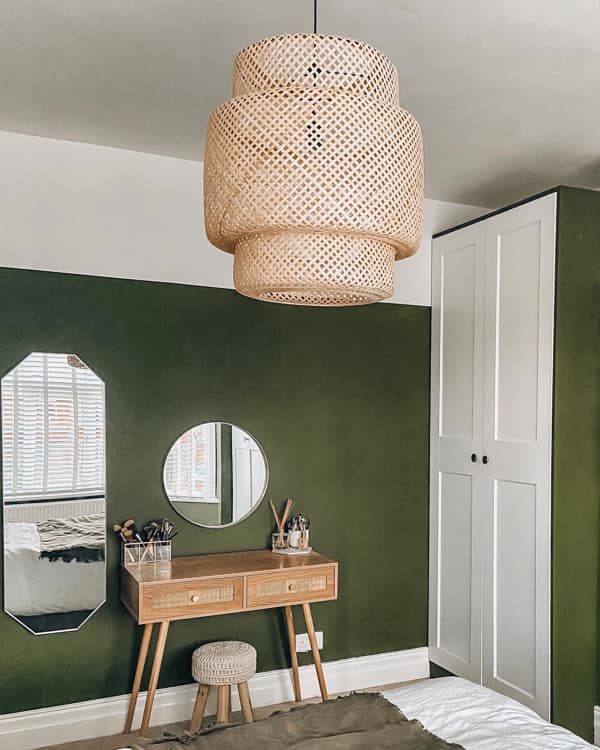 15. Boho Glam Bedroom Mirror Ideas. Timelessly chic and effortlessly quaint, boho glam shines soft pinks and golds creating a dreamy feel. Sprinkled with a blend of furniture, it can easily incorporate mirrors of all shapes and sizes. Add a few mirrors in interesting shapes or go for one large mirror. Hang it over a dressing table or lean it casually against the wall to make the room feel even more chill.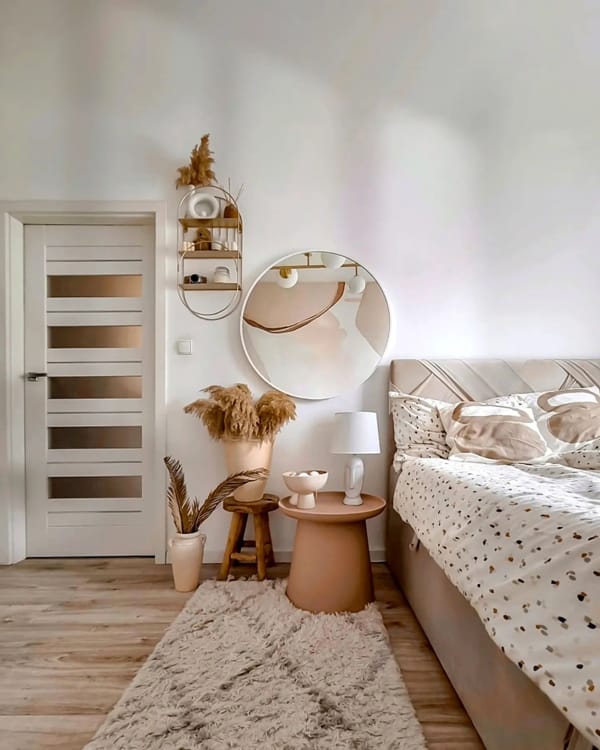 via @oliv.home
16. Oversized Vintage Bedroom Mirror. Create an illusion of space in a small bedroom with an ornamental vintage mantel mirror. It opens up the space reflecting light in a pure minimalistic design.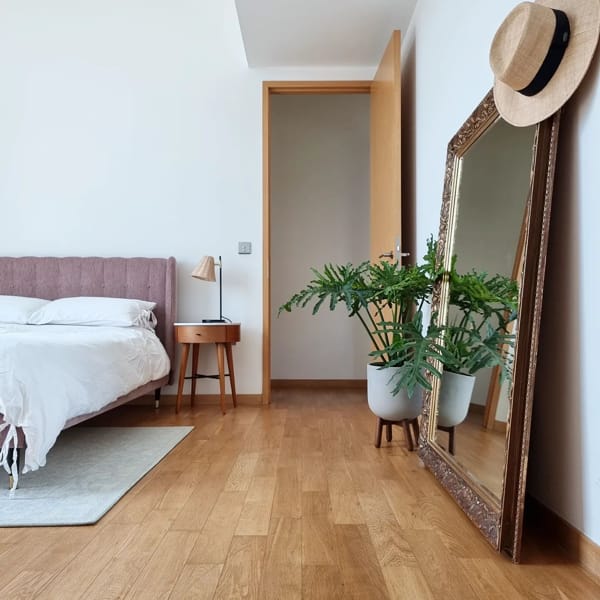 17. Twin Pond-Shaped Mirrors. Hanging matching or twin mirrors in your room is an excellent way to increase light and reflection and spruce up otherwise bland wall space. Place the mirrors on both sides of the bed for a modern arrangement.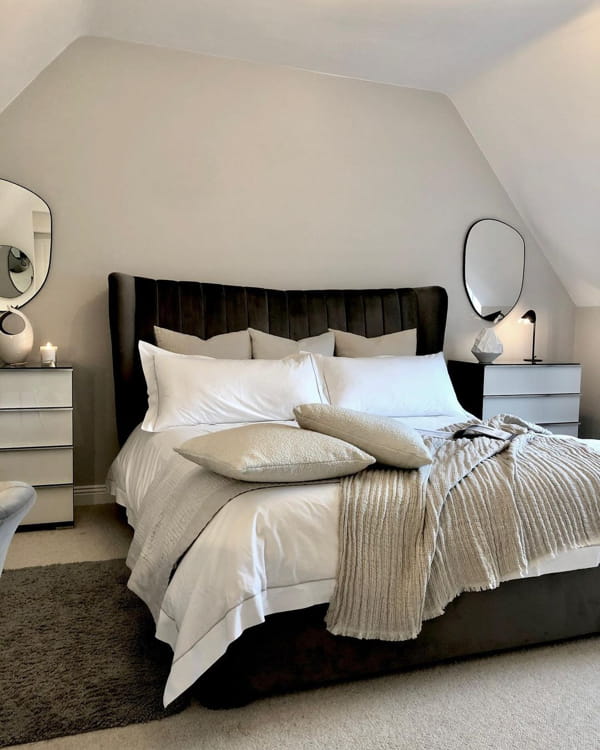 18. Antique Chinoiserie Bedroom Mirror. A nod to superfluous chinoiserie style, this floor-length mirror creates an illusion of depth in a vintage-styled bedroom. Make sure there is enough space for you to step back and admire the look.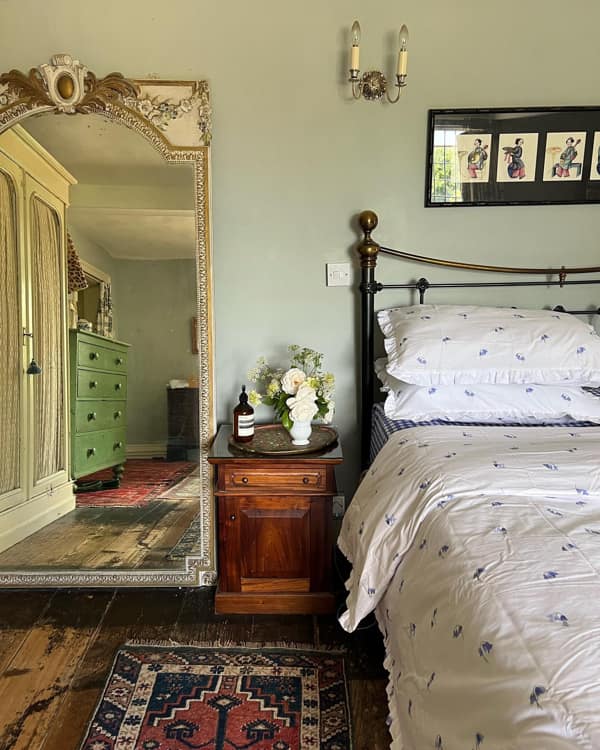 via @mrs_trufflepig
19. Pebble Black-Framed Mirror. This sleek organic-shaped wall mirror makes for a fabulous focal point in absolutely any room. It readily lends itself to both industrial and modern spaces and makes your house beautiful in a natural, realistic way.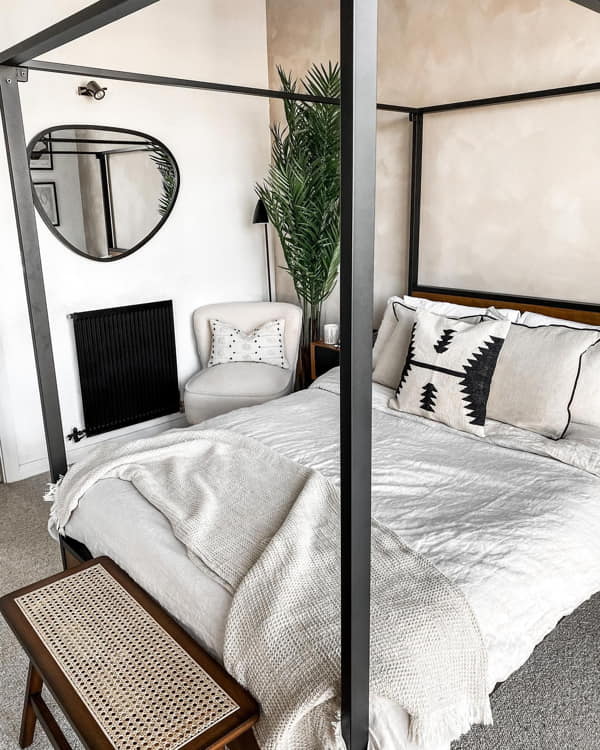 via @doghousedecors
20. Vintage Victorian Mirror. Grand and elaborate, Victorian mirrors make a marvelous addition to eclectic modern designs. Heavily carved frame decorations look fresh in frail and delicate white. Hang or prop the mirror against the bed to greet each morning in style.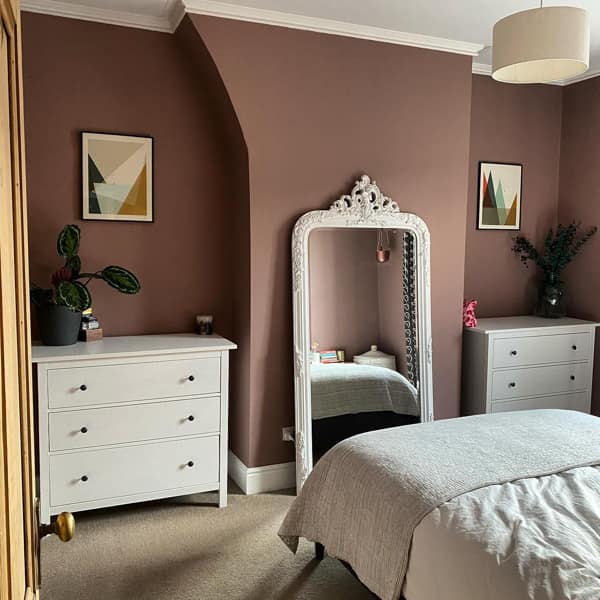 via @renovating_no_39_liverpool
21. Gold Leaf DIY Mirror. If standard store mirrors kill your vibe, create a mirror of your dreams yourself! Draw inspiration from this gold leaf DIY production that gives the room an illusion of more light and space without overwhelming it.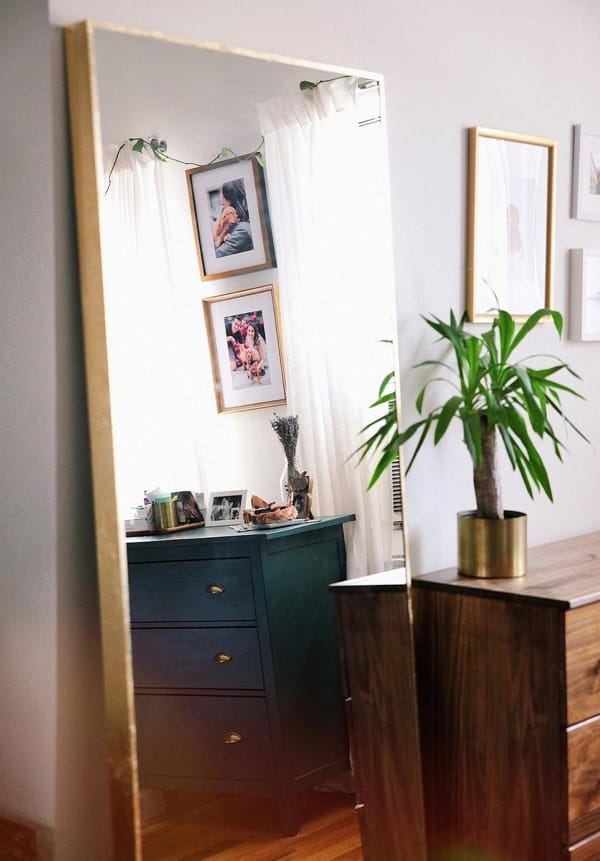 via @jessiefinds
22. Modern Arch Top Mirror. Arch top mirrors are a classic practical option that can boost the dimension and add visual interest to any room. Placing the mirror opposite the window will bounce light around the room.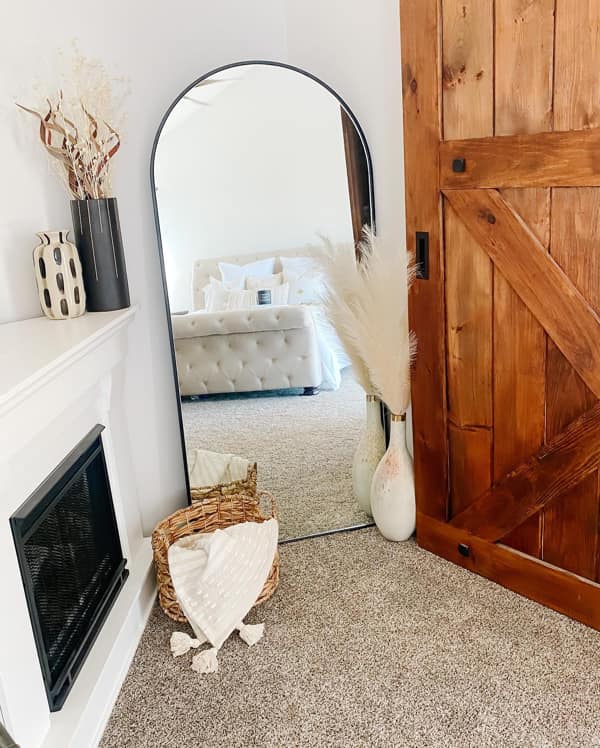 via @mybeautypharm
23. Straightforward Oval Mirror. This contemporary mirror matches any room and any interior design perfectly due to its clean straightforward motif. With a sleek metal frame, it easily enhances the beauty of your bedroom.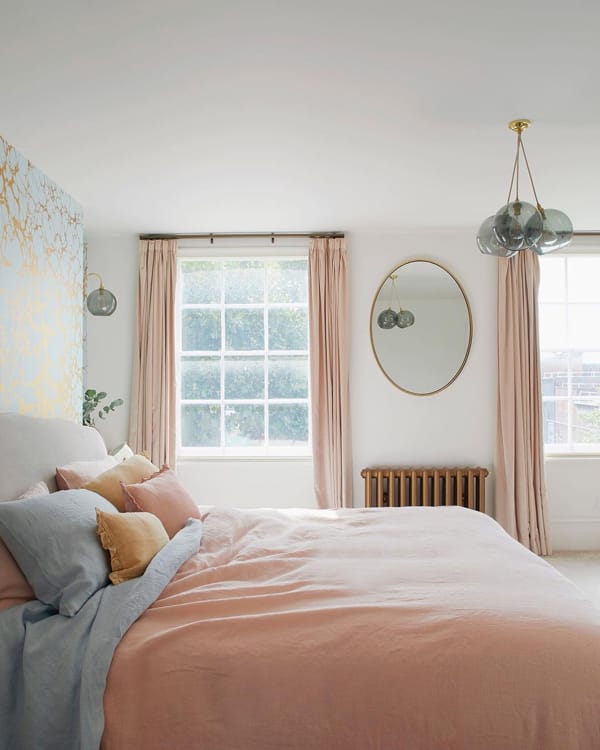 via @studiomilne
24. Standing Gild-Framed Mirror. Whether you are looking for a way to brighten up your bedroom or create a dressing-up area, angled bedroom mirrors are a fabulous idea. They can also double as art pieces, adding a touch of personality to any room.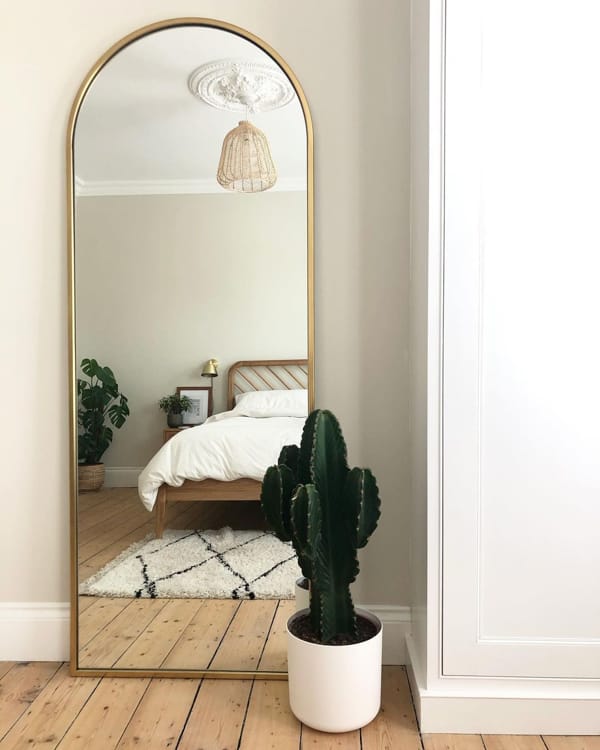 via @re.do22
25. Eclectic Mirror Setup. Decorative mirrors come in an array of sizes and shapes. Grouping different styles of wall mirrors is an excellent way to add an eclectic vibe to your home interior. Curate your own unique collection of mirrors both for practical reasons and aesthetic pleasure.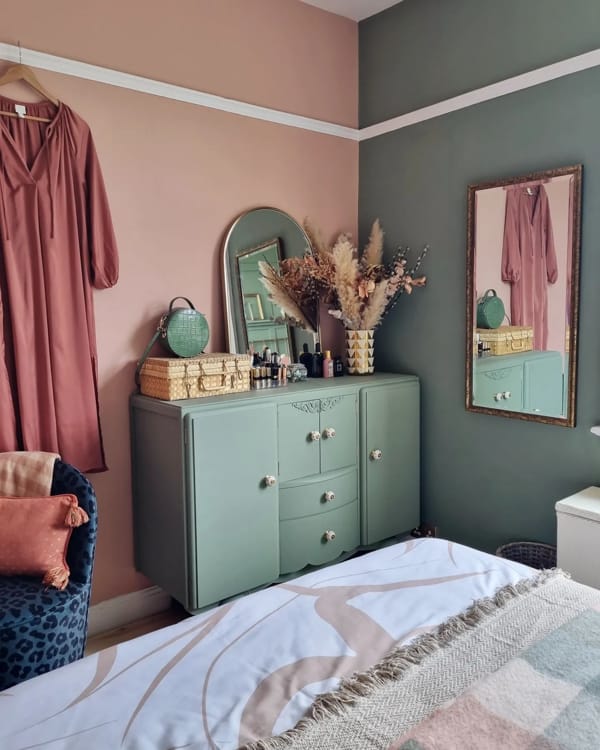 via @gingerhearts
26. Window-Shaped Mirror. Designed to look like a floor-to-ceiling window, the grid frame makes the room feel bigger, creating an illusion of more space in the bedroom. Massive and sturdy, they are super safe to be used in a bedroom.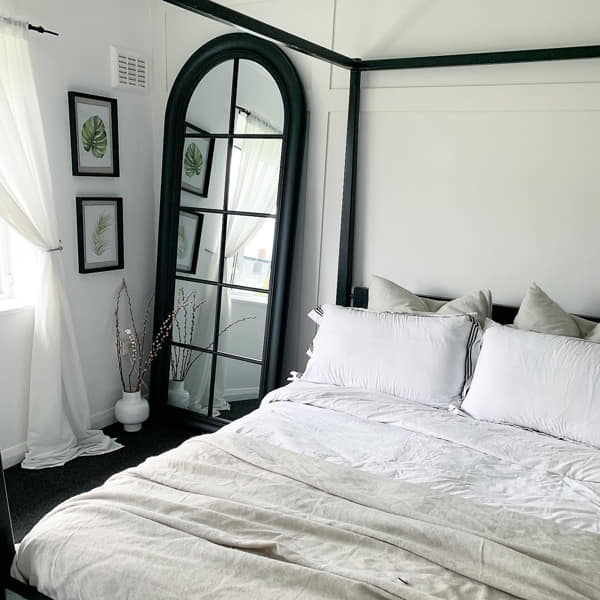 27. Simple But Stylish Vanity Mirror. Think out of the box and place a larger mirror right next to your dresser. Not only is it bigger than a typical vanity mirror, but it also lets you check your overall look.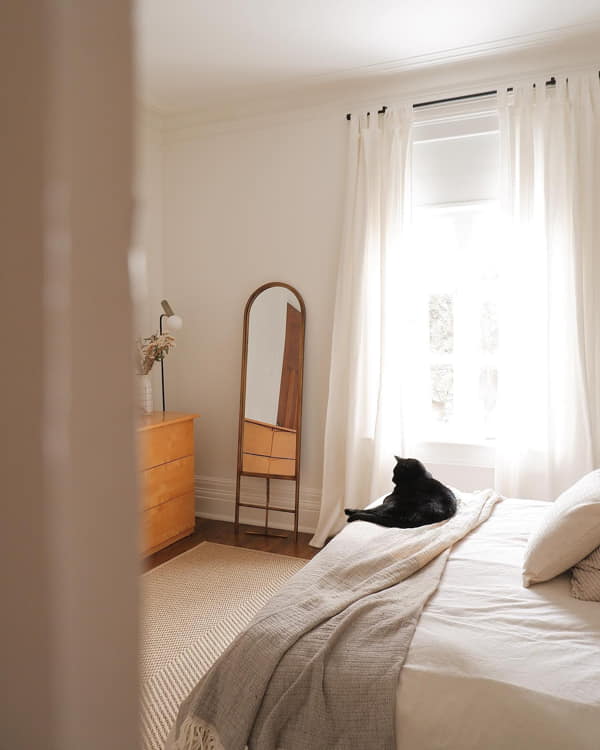 via @rouge__brique
28. Dresser Mirror with Lights. This luxury illuminated mirror with LED lights is perched on top of an elegant black dresser to create a perfect environment for doing makeup. LED lighting is by far the best choice for dresser mirrors as it lends a natural glow to your skin.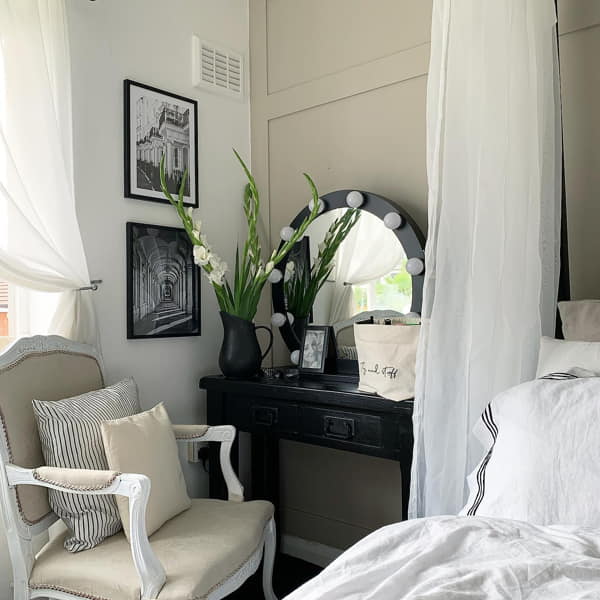 29. Large Circular Mirror. Round mirrors are versatile items that can work with numerous designs, from traditional to ultra-modern. In addition to their visual appeal, round mirrors are also functional because they provide a clear view from all angles.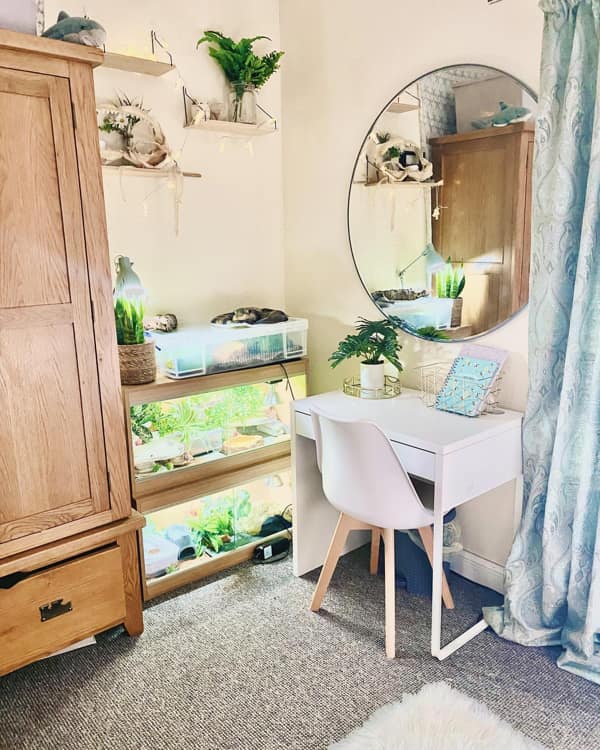 via @aimees.planet
30. Elegant Floor Mirror. Few things are as chic as floor-standing mirrors. They make an awesome addition to any bedroom. Find the perfect mirror frame to boost the style of your home.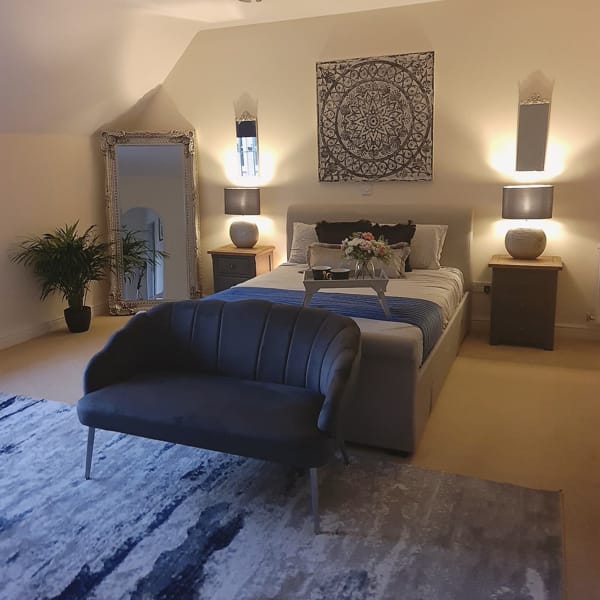 Your bedroom should be a place that reflects your personality and lets you feel totally comfortable. From gorgeous embellished designs to vibrant delicate fixtures, there is a mirror here to suit every taste. Set a mood, play with light and reflections, and increase a sense of space with our bedroom mirror ideas.